Adventure Sports: Rock Climbing
Rock climbing is a sport, which involves climbing steep rocks. This sport originated in the nineteenth century in Saxony, Lake District of England. After Walter Parry Haskett Smith climbed Napes Needle alone for the first time, many people were attracted and it later converted to sports in England, in 1880's and by 1930's some two hundred climbing resorts opened in the Elbsandstein region. As the sport evolved grading system was introduced to analyze different levels of difficulties while climbing. Both the safety equipment and climbing techniques have been evolved with the passage of time.
A climber should be mentally and physically be strong to overcome difficulties and having extensive knowledge can make the task easier. Initially the climbers can learn in pairs, while one learns to climb the other can belay or feed the rope from either end of the rock structure. In case the climber falls, the belayer can lock off the rope. When multiple climbers climb, the leader can connect a rope with carabiners or quick-draws as a protection measure. A more risky method, simul-climbing, involves the leader and the team members to move at the same time, giving less time to belay the rope.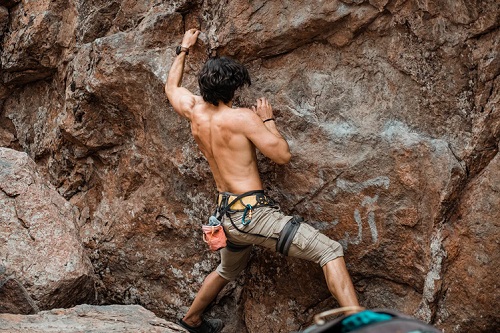 There are many variations to the traditional rock climbing. They can be broadly classified into free climbing and aid climbing. Climbers do not use any kind of equipment in free climbing and in aid climbing; equipment are used to support the weight of the body against the rocks, which have less natural formation.
In lead climbing, the leader of the group of climber ties the rope to his body and starts to climb the rock structure first, followed by his other team members who have the same rope tied to their individual bodies. In traditional lead climbing, the leader places bolts into the rock to ascend and the followers use the same bolts. The cleaner is responsible to remove the bolts so that no trace is left of the path taken. If any of the climbers' slips or falls, they will lower themselves on to the ground to start over again, instead on resting on the rope.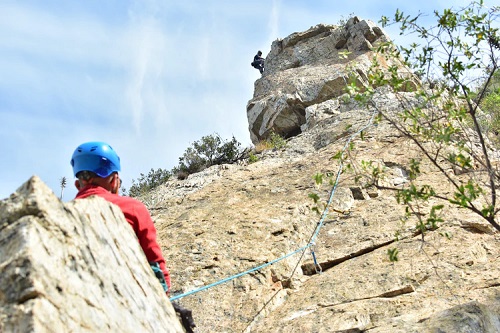 In sport lead climbing, bolts are already laid into the rocks so the leader doesn't have to carry extra equipment with him. But in this case, there is a risk of bolts rusting as they are laid before hand, and if precaution isn't taken it can be dangerous. If any of the climbers falls, he will rest on the rope and will try to climb again.
Tags :
RockClimbing