Outdoor activewear has become a part of fashion staples throughout the years, and it's been a long time since many fashion enthusiasts embraced its versatility. Activewear can accompany you during long runs in parks, running errands, and going on coffee dates. The simple designs and primary hues of activewear have evolved into a more exciting fashion statement and staple, plus they can now add style to your post-workout look.
If you find your pair of leggings and sports bra boring, it would be best to treat yourself to a new set of trendy outdoor active wear and add some hype to your workout routines. We highlighted a few items from the most reviewed and popular activewear brands. Check out some retro design features and eco-conscious materials, and consider them for your next shopping trip.
Flared Leggings
Flared leggings have reigned supreme when discussing trending activewear. It is a jaw-dropping piece that is perfect during a yoga session, plus it can be worn when having lunch with your friends after coming to the gym. Flare leggings are one of the top staples because of the stretchy materials used, their versatility, and how they can flatter the body shape. Check out some items and add them to your shopping list.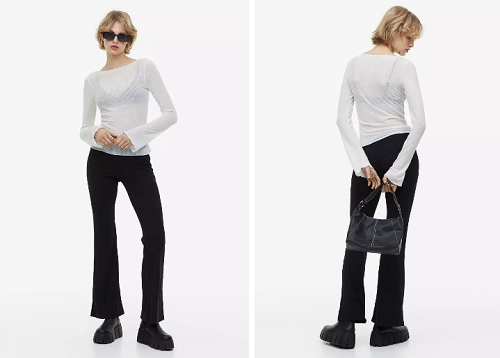 The comeback of The '90s
Have you seen fashion styles from the 90s? Recently, it is made a comeback with loud patterns and bright colors. You can see the resemblance between the fashion statements from this era and the activewear on the market now. The high-waisted spandex shorts and chunky socks came from the 90s, as did the tanks over tees style. Let nostalgia roll over you by checking out and considering a few activewear pieces that remind us of how fashion from the 90s looked.
Workout to Hangout
Sometimes there are unexpected invitations for a date or a sit with coffee from friends while you are in the middle of a gym workout and wearing your workout gear. Investing in a new set of activewear would be the best way to make you look good in a post-workout scenario. You can go from workout to hangout without compromising style and comfort. Stay calm for a complete change before your coffee dates and lunch hangouts after your gym session from now on.
Tags :
ActiveDresses
activewear
H&M